Mentor Spotlight: Dr. Minerva Romero Arenas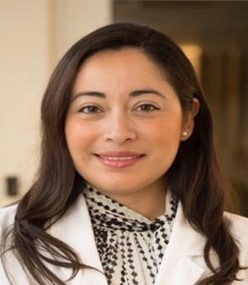 Mentor Spotlight: Dr. Minerva Romero Arenas
Dr. Romero is an Endocrine and General Surgeon at NYP Brooklyn Methodist Hospital. She is an Assistant Professor of Surgery at Weill Cornell Medical College. Dr. Romero Arenas completed a fellowship in Oncologic Surgical Endocrinology at the University of Texas MD Anderson Cancer Center in Houston, TX. She completed her General Surgery Residency at Sinai Hospital of Baltimore. She earned her Medical Doctorate and Master of Public Health degrees from The University of Arizona College of Medicine and the Zuckerman College of Public Health. She studied Cell Biology and French at Arizona State University as an undergraduate.
Her interests include benign and oncologic endocrine neoplasms, hereditary syndromes, health disparities, quality improvement, global health, and genomics. A native of Mexico City, Mexico. Dr. Romero Arenas is passionate about recruiting the next generation of surgeons and is involved in mentoring through various organizations, such as the Association of Women Surgeons, Tour for Diversity in Medicine, Latino Medical Student Association, National Hispanic Medical Association, and Building the Next Generation of Academic Physicians. She is a Founding Member of the Latino Surgical Society. She enjoys fine arts, films, gastronomy, and sports. She enjoys jogging, swimming, and kickboxing. Most importantly, Dr. Romero Arenas treasures spending time with her family and loved ones.
The Interview
Could you tell us how you discovered your interest in surgery, specifically, endocrine surgery?
My interest in surgery was not existent before I went through my surgical rotations. I went through every clerkship wanting to learn the most and really to find my calling. I did not come into medical school preset on a specific field. I thought I would go into a primary care specialty (because that is what many underrepresented students are encouraged to pursue) but I knew that I probably was not going to be a surgeon because I didn't think that was the way to help the community–, patients who had no insurance, or people facingwith specific healthcare disparities.
Nonetheless, I wanted to do a good job and maximize my learning through all the rotations. When I was finishing my surgical clerkship, one of the surgeons that I was working with very nonchalantly asked me why I wasn't going into surgery. Literally that is what he said, "Minerva, why are you not going into surgery?" I couldn't answer. I simply did not have a good answer and I sort of questioned where that was coming from. It was amazing that someone changed my life so much and they saw something in me that I did not see in myself. Ultimately, I said I just did not know and I had not thought about it. That changed my path tremendously. Later on, I went into general surgery with the same attitude because I did not know much about surgery and I just wanted to learn and explore all the career options and subspecialties. Ultimately, I settled on academic surgery and clinically on endocrine surgery after considering trauma, surgical oncology, colorectal surgery. I find the pathophysiology really fascinating and I find the cases both technically and intellectually challenging. I also like the broad variety of benign and malignant disease because it is not entirely overwhelming all the time.
Did you encounter any obstacles in your surgical training? If so, how did you overcome them?
Yes. I am first generation and I didn't have doctors or surgeons in my family. I didn't really have long-term mentors in surgery because I decided to switch in my fourth year from medicine or a primary care path to surgery. So, a lot of that I had to build anew in residency. I lacked mentorship and exploration of what it meant to become a surgical resident and surgeon. I believe in that regard it was challenging in trying to figure it out. Also, as a woman it was jarring to see differences in treatment of women surgeons (both residents and faculty). At the end of the day, I came in with a good work ethic, and internal drive, and the same curiosity for learning and that is what really helped me persevere.
What would you say are the biggest changes you've seen in surgical culture in the past few decades?
A lot has changed. It has been almost 15 years since I started residency training to now being in practice. There have been three huge changes I have seen and really those changes have really occurred in the last 5 years.
1. Social Justice and Activism – This happened after the summer of 2020 in the post George Floyd era where there were a lot of calls for social justice and attention to social determinants of health. I would say that was catalyzed by the death of George Floyd even though we were starting to see mentions of it with the COVID disparities and attacks on the Asian community because of the corona virus pandemic. I really think the death of George Floyd catalyzed a huge change within medicine and surgery – and really the whole country.
2. Cultural Change – People are now more open to supporting families and family planning in general. I saw peers and faculty that being a surgeon and also being a parent were almost incompatible. I personally did not see a way that allowed me to feel good about being a parent and a "good surgical resident." For example, I saw the pressures felt by my peers of "you can't really take time off in the postpartum period" to be a mother or a father. I believe this has changed significantly and in the last few years we have now seen statements and policies come out that are more supportive of parents. The changes also span to creating supportive work environments, attention to wellness and burnout, and team dynamics.
3. Shift in surgical education – Surgical education is moving to now an academic-guided process as opposed to the traditional "see one, do one, teach one." This model was great in a lot of ways but perhaps led to inconsistency in training. Now the attention goes to how we produce, educate and train good, safe, and competent surgeons in this shiftworked surgical training model. It which has limited work hours (in a positive way), but also limited the some of the training opportunities. That is a regret that older generations may have. They are always worried that every new graduating class just has not seen as much, has not done as much, and just is not as ready to go out and practice independently. However, with the change in the work hours we have learned that it did not lead to an increase in patient errors but it did require lots of modifications in our training styles and our clinical practice to capture the potential gaps in care. So, I believe all of those are positive changes but also major changes in our profession.
As you progressed through your training, how did your perception of surgery change?
Even now as an early career faculty, I think my perspective changes every year as I progress and grow. We always talk about having more tools in your armamentarium and it really is that accumulation of skills and patient experiences that shift and mold your practice. As a trainee, there's a big part of our learning focused on "what do I get to do," being given autonomy, and being given room to improve your technical skills. As you mature as a resident, you learn more and understand that the focus isn't entirely on the surgical skills. There is also focus on the art of surgical decision making, art of patient care and understanding everything that goes into the care episode. Additionally, you learn how much of it happens outside the operating room. There is a progression and gaining of wisdom in my practice. Now as an educator, I am evolving with the needs of future generations because the learning styles of people in training now is different from than those of previous generations. This pushes all of us to evolve as educators.
You spend a significant amount of time mentoring medical students and creating opportunities for medical students. What motivates you to provide this mentorship?
I am very grateful to my mentors who had patience, love for teaching, and a mutual respect. It is a commitment to train the next generation of surgeons. Even from my upbringing, I have always been taught to look back and try to help people who are in similar or better or worse situations than me, but to always think about how I can help others. I definitely can also appreciate that I trained at a time when I really had no mentors that were women or Hispanic/Latino. I am incredibly thankful to my mentors who didn't "look like me" but we were able to build very important and meaningful mentor-mentee relationships. But I can definitely see where it would have been nice to have concordant mentorship. To think of it, I didn't even have co-residents really or peers in training that shared those elements of my background. I also see the needs from the current students and residents who would like to have that. So as long as I have time and energy, I am happy to continue to provide mentorship and guidance where I can and keep pulling people forward.
What advice would you give aspiring female/Latinx surgeons?
My advice would be to give your 110%. It would be to know that you have earned your spot and to know you should work every day to keep that spot. But to remember that you have earned it. That will always motivate you to learn more, be better, and really perform at your peak level. I think having that passion for what you do is important. It will help you be the best doctor and surgeon that you can be. I think we all bring something to the table and it is important that our patients and colleagues see it. Knowing that you belong and that surgery it is not easy for anyone is important. Some people seem like they have it together but it is hard for everyone, so you shouldn't feel isolated in that regard.
If you could go back and start over, would you still pursue a career in surgery?
If I could go back and start over, I would still go back and do surgery. I still find a lot of fulfillment in my career. I am very happy with my decision to pursue surgery. However, if I could go back, I would be more open to exploring careers in surgery earlier in my path to medicine but overall, I think I did okay.
Is there anything you would change about the field of surgery?
I would love to see surgery be considered as important as primary care in terms of access to healthcare. There are definitely a lot of disparities that we see in surgical disease that I think is largely impacted by lack of access to surgical services. If we could see that as an important element then we wouldn't have patients wait until their disease grows disproportionately. In my field of endocrine surgery, we see that patients are often told to hold off on certain procedures. As an example, thyroid nodules can be watched if they're benign. However, when you allow these to grow to a size that is overwhelming it can lead to a much more complex operation. It is challenging not being able to provide active surveillance or guidance for proper intervention. There are also limitations when someone needs surgical intervention but insurance won't cover it. These barriers put strains on the system. In conclusion, something that could have been easily handled as an uncomplicated procedure can later become complex, costlier, and more dangerous to the patient sometimes.
Is there anything you came across in surgery now that you are in practice, that you were not expecting when you originally committed to become a surgeon?
The importance of building a supportive team within a surgical department. The importance of building a healthy supportive culture. The same issues that can make a residency training program benign or malignant can follow in the faculty level where your time is not protected by work hour limitations. So, it is important to understand the expectations from your partners and from your colleagues. I think when I started, the mentality was basically to know that I would be sacrificing many things and simply had to accept it. I appreciate that we are moving away from that.
What accomplishment are you most proud of (does not necessarily have to be related to surgery/medicine)?
I am most proud of being able to stay true to myself. My family comes from a humble background and I think that no matter what professional or academic achievements I have, I feel grounded in the lessons that were instilled in me before I even went to college or professional school. I think that is a really important aspect that I am proud of. I do feel like I have not forgotten where I came from. Staying grounded.
How do you maintain "balance" in your life as a surgeon?
I think "balance" is not the word I like to use. I like to see it more as maintaining relevant priorities. For me it is understanding the quality of my experience and my happiness. There are certain aspects of my work that I truly enjoy and others that I know, for example, if I feel like I am not putting my 100%, I won't be satisfied. Those are parts that are important to me professionally. So, at the same time, I do value spending time with my family and friends. Do I have to be at every single holiday or birthday gathering? No, but I try and when I am present, I like to be present. I value having high quality time and not being distracted in doing so. I appreciate having that ability to disconnect and being able to prioritize activities and time with the important people in my life. That is meaningful to me. And not being stressed by less important responsibilities.
Outside of work, what do you enjoy doing most in your free time?
I love spending time with my dog, Bella. I like attending sports and cultural events. I also enjoy working out, running, and kickboxing.
What are your future career goals? Where do you want to go from here?
I would like to continue my path in surgical education and positively influencing the field of surgery in regards to inclusivity. I also hope to create a healthy, inclusive, supportive surgical workplace. Specifically, for my discipline, I hope to continue to excel clinically and contributing to the provision of care in surgical endocrinology.
How has AWS impacted your journey as a surgeon?
I have been really happy seeing the communications arm of AWS grow exponentially. I have had the privilege of participating in it since I was a resident. I was part of the communications committee when we started the AWS blog and have seen the various social media platforms grow within the communications committee including Twitter, Instagram, and more. I have served in the leadership as a resident, fellow, and faculty, and ultimately as co-chair of the  communications committee. It has been really rewarding. I have gotten to know a lot of surgeons and trainees over the years in ways that perhaps they might not even realize how much it feels like we know them. We get to read these candid stories and perspectives from the blog authors or from the invited guests to our tweet chats. It has really been a pleasure to get to know our community and see the amazing work that goes on behind the scenes from everyone in our communications committee to really create this community of support for women surgeons. I really appreciated having the privilege of doing that. 
I also have had the opportunity of working to build a partnership between AWS and the Latino Surgical Society. I love that both organizations can work together to create opportunities for our members and really work toward shared goals.
Where do you see AWS in 10 years?
I think AWS will continue to have a purpose in lending a voice as an advocate for women surgeons but also a voice as an ally of other organizations aimed at specific groups within surgery that are underrepresented. I do see AWS continuing to have an important and critical role in both spheres.
Medical Student Interviewee: Natalia Correa, MS

Natalia Correa is fourth year medical student at Florida State University College of Medicine. Prior to attending medical school, she completed her Master's in Medical Sciences at the University of South Florida and Bachelor's in Exercise Physiology at Florida State University. She was born and raised in Miami, Florida and both of her parents are from Bogota, Colombia. Natalia applied to residency in general surgery and is set to become the first surgeon in her family. Her most cherished accomplishments are sharing her journey as a Latina medical student to inspire the next generation and support the diversification of the medical field. As a surgeon, Natalia aspires to remain involved with medical education, serve as a mentor for future surgeons, and start her own scholarship program in the future! She has interests in trauma and acute care surgery, but she wants to keep an open mind as she continues her journey! In her free time, she enjoys traveling and exploring new places and cuisines. She also cherishes the time she spends with her family and friends, especially when she gets to go back home to Miami, Florida.
Mentee Reflections:
I have had the pleasure of meeting Dr. Romero through the Latino Surgical Society. At the time, I was a third-year medical student and had decided to pursue a career in general surgery. Being a Latina in medicine and pursuing a career in surgery has played a major role in my experience and I was seeking a mentor that shared a similar experience. Upon reaching out, Dr. Romero took me under her wing immediately. I was eager to get involved with the Latino Surgical Society and AWS. She invited me to apply to become a social media intern for LSS. She made time for me monthly to discuss all things related to being a fourth year pursuing general surgery. We discussed sub-I applications, she connected me to Latina surgeons at institutions I would be rotating at, she reviewed my personal statement, we discussed residency applications, she prepped me for residency interviews, she sponsored my attendance to conferences on behalf of LSS including ACS 2022, AWS 2022, and EAST 2023. Needless to say, Dr. Romero has gone above and beyond as a mentor and sponsor. Not only is Dr. Romero an endless source of support and encouragement, but she has become my role model and embodies the traits I seek to possess as a future surgeon. She uplifts and supports those around her, she creates a seat at the table and advocates for your inclusion and growth, and she has an unwavering dedication to the advancement of minorities in surgery. I feel incredibly blessed to have Dr. Romero in my corner and my hope is that this interview will give you insight on how cherished and valuable this mentorship is!
Share this post: