BOOK REVIEW: A Not Entirely Benign Procedure: Four Years as a Medical Student by Dr. Perri Klass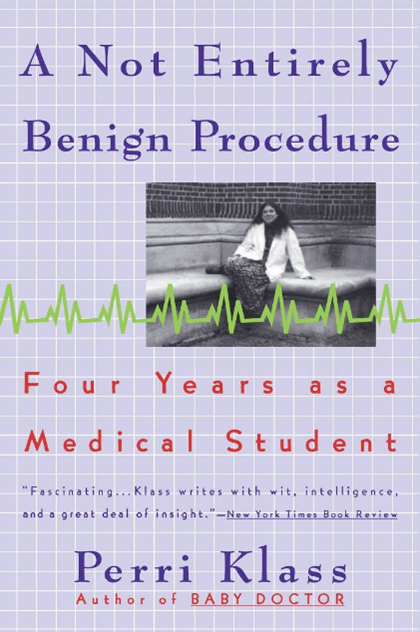 Reviewed by: Ariana Ginsberg
Dr. Klass constructs her novel, A Not Entirely Benign Procedure: Four Years as a Medical Student, from a series of essays. She notes that these essays were written at specific moments in her medical career, sequentially as she progressed through medical school. I will be focusing this review on her first essay: the preclinical years. As a third year medical student myself, I am nearing the end of my core clerkships. In 2 only months, I will be a 4 the and final year medical student. Reading this essay took me back to a time that was really not so long ago. And yet it sometimes feels like an entirely separate lifetime. Dr. Klass's descriptive writing managed to transport me directly back to being a pre-clinical student. As I read her work, I found myself returning to this section again and again.
Interestingly, Dr. Klass emphasizes that as a writer she attempts to continue to view medicine from the outside perspective. She remarks how, as students, we tend lose that perspective as we begin our "initiation" into medicine. Even reading this alone, I realized I was reading this book from the lens of a medical student. However, I think the beauty of this work is that anyone can and should read it. An audience of someone who is not studying medicine would be able to read and love her stories – for in medical training, as she demonstrates, there is much to learn about human nature and that which is universal. However, for me, I inevitably fell back into reading from my perspective, that of a clinician in training. And truly, Dr. Klass's work is worth a read. I found myself viscerally relating to her experiences though we are separated in training by a good number of years; A Not Entirely Benign Procedure: Four Years as a Medical Student was published in 1987. I will graduate medical school in 2024.
Even from the first page of her chapter about her very first day of medical school, I saw myself reflected in Dr. Klass. As I'm sure is the case for so many students, Dr. Klass reflects on her initial assumption that everyone around her knew better, was better, was smarter, and worked harder. That feeling can be so hard to shake. She notes how she fell back into to her old ways of being, cramming for tests and sleeping through morning lectures. I think this section spoke to the presumptions we make about ourselves and others that are so often built up in our minds – imposter syndrome seems to be a transgenerational issue. And yet Dr. Klass continued on despite her doubts. She continued on and became a successful, renowned, licensed physician. In one essay, Dr. Klass comments on how the women in her medical school class have a fear of being seen as not "tough" enough. They worry that if they do not do a dissection lab, the preconceived notions about them will be confirmed. I feel that is something that women in medicine still face to this day. More than 50% of incoming medical students are female, which I do view as huge progress, however in the world and hospital, there is still a great deal of bias and discrimination that people and women face every day. This problem has persisted over the decades. I'm sure most women in medicine have been in a situation where a patient has assumed they were not a doctor. It appears that Dr. Klass was no stranger to that feeling. Knowing that she has also had that experience immediately created a sense of connection for me with Dr. Klass. I felt a kinship with her and it drew me in further to continue reading her story.
I also found myself relating to her sentiment of being righteous about my "busyness". This was a more light-hearted and joking section from Dr. Klass but with a poignant message. She talks about her sense of self-righteousness about her busyness. She used her status as "medical student" to do justify the fact that she did not do the shopping, did not wash the dishes, and she had to be studying. She left all that excess work to the person she was living with: her partner. Shen goes on to note that she started to recognize that it was wearing on her relationship. It is an important reflection that it is important to have a support system and a group of people and family who support you, but also important to recognize that you need to be a support back. Partnership especially is a two-way street and finding that balance in medical training requires ongoing effort.
Throughout her essays, Dr. Klass mentions her identity as a women in medicine. It is clearly an identifying factor for herself. However, she comments on how she is exhausted by the constant phrase "the lack of female role models." She expresses this exhaustion while at the same time, acknowledging the truth of it. As I first read this section, I found it interesting that she brings up the point and then seemingly does not elaborate in the following paragraphs. At first, I wondered that was perhaps her point. She knows it's true, it' simply a fact, it exhausts her and she did not feel the need to go further into it. She would rather talk about the medicine itself, the clinical side of things than spend another moment being exasperated by the availability a female mentorship. While there might be truth to those thoughts, in fact, my original misgivings were proven to be hasty as several pages later Dr. Klass comments on about her anatomy lab experience. She refers to the days involving dissection of the reproductive systems. She says that the male students have a hard time dissecting the male cadavers and the females have a harder time dissecting the female cadavers. In her words:
"To be fair I and many of the other women find the dissection of the female reproductive system somewhat more difficult emotionally it's hard to cut up structures about what you feel very protective; It's a lot easier with structures you simply don't possess. "
I have to wonder of course: is there some clue there to the way the medical profession has always treated women? Such a powerful statement. I think it is extremely provocative of course and perhaps very black and white without much room for nuance. It made me reflect on why organizations like the Association of Women Surgeons exists. Historically, the institution of medicine has shut women out. It is only in recent years has that begun to change. And in fact, there are still many discrepancies and discrimination that women in medicine experience on the basis of gender. I thought the way Dr. Klass used a universal medical student experience to highlight this fact was inspired and memorable.
From that point, I found myself almost inextricably engaged by her description of anatomy lab. This is a universal experience that we as medical students have. She so eloquently and accurately describes it like induction into a priesthood. "I have a sense that I'm being initiated into a priesthood. This is something that normal people never do." I find this statement so true. This experience is so very medical and yet also can be extremely emotional for many students. It is a shift and change that Dr. Klass notes is a moment when you become a medical student and become delineated as an Other. You cannot return to who you were before, a metamorphosis is taking place. She then goes on to discuss an anatomy exam.
She writes about how all the students sit and are flexing and moving their own body as an aid to remember their own physiology in the hopes it will afford them the correct question answer. Reading this, I am immediately transported to two and a half years ago when I took that same exam. I saw all my classmates around me, flexing and moving their body to get the answers. This too sparks an immediate sense of kinship with Dr. Klass. We may be different and we may be from different decades but we are brought together by these shared experiences. Shared by us in medical training, but no one else.
Finally, Dr. Klass's second essay in "Pre-Clinical" focuses on her second year of medical school and the focus is her being a pregnant medical student. She discovers she is pregnant at the very end of her first year and discusses in detail the feeling of being both a medical professional learning to be a doctor and being a patient and growing a human life within her. She goes into a discussion about the decision of having a baby in medical school. This is something resonated with me as a young woman with my peers beginning to enter that stage of their lives. She talks about thinking about when to have a baby, in medical school? Residency? Fellowship? I am moved that she boldly and bravely brings up these topics that are often taboo in the medical world. But these are the real questions that women especially have to answer. I know that this is something that my fellow female classmates often think about.
Many of us do want to be mothers and physicians. And we all know that there are many challenges that are laid out along that path. I was grateful that Dr. Klass confronted this topic head on. And I applaud her for choosing what was best for herself and for creating the family she wanted in the way that she wanted. I enjoyed her interesting discussion of the different birth classes she attended. She describes her impression that some classes were designed to make "good" patients and some were designed to make "bad: patients. The good patients were those who didn't question the doctor and did what they were told. The bad patients were the ones who wanted a natural birth and would advocate for themselves, branding themselves as difficult and challenging. I particularly loved her comment that "None of my medical school classmates, after the course [pregnancy and delivery] would have been capable of answering even the most basic questions of pregnancy asked by the people in my childbirth class. The important issues for future doctors simply did not overlap with the important issues for future parents."
I thought this was such an interesting and vital point. As I have continued throughout my medical training, I realize that sometimes what we are taught is not what will matter to our patients. Part of the clinical years, is learning when we have to take that step back as human beings, not as medical professionals. When we need to think about what does the person in front of me need? What are they thinking? What is their question that we need to answer? We need to stop thinking about the question about the a pathophysiological principle or the mechanisms of action of a drug. From there, Dr. Klass talks a lot about how the experience of being a pregnant person in medical school is so hard in part because pregnancy itself is seen as a disease. She says it feels like pregnancy becomes a "medical emergency." This makes it so much harder for to enjoy her pregnancy and to find the joy in it. However, preserve she does and concludes her pre-clinical years with joy in the birth of her son. I will leave my own thoughts on this note as well. There is, of course, so much more to say on this book. This barely touches the surface. But my take-away was how very human Dr. Klass is and how impressed I was with the connection she is able to forge with her reader. Her writing is quick, witty, and touching. I enjoyed every moment reading her work and would recommend it to any aspiring female (or not!) physician.
About the Reviewer: 
Ariana Ginsberg
Ariana Ginsberg is a third-year medical student at Tufts University School of Medicine. Ariana grew up in New York City and obtained her undergraduate degree in Neuroscience from Johns Hopkins University. Prior to beginning medical school, Ariana spent time conducting neuroscience research at Hopkins and working in a colorectal surgical practice in New York. She is currently involved in clinical research at Tufts and serves as New England Regional Representative for the AWS Medical Student Committee, as well as serves on Tufts Student Council, and acts as a mentor and tutor for underclassmen at Tufts. Ariana is an aspiring pediatric surgeon whose passion for surgery ignited during her college days while shadowing in a variety of surgical specialties. She believes in the power of mentorship and community support for fellow women surgeons and medical students. Outside of medicine, Ariana loves running, classical ballet, and finding the best bagels in every city.
Share this post: